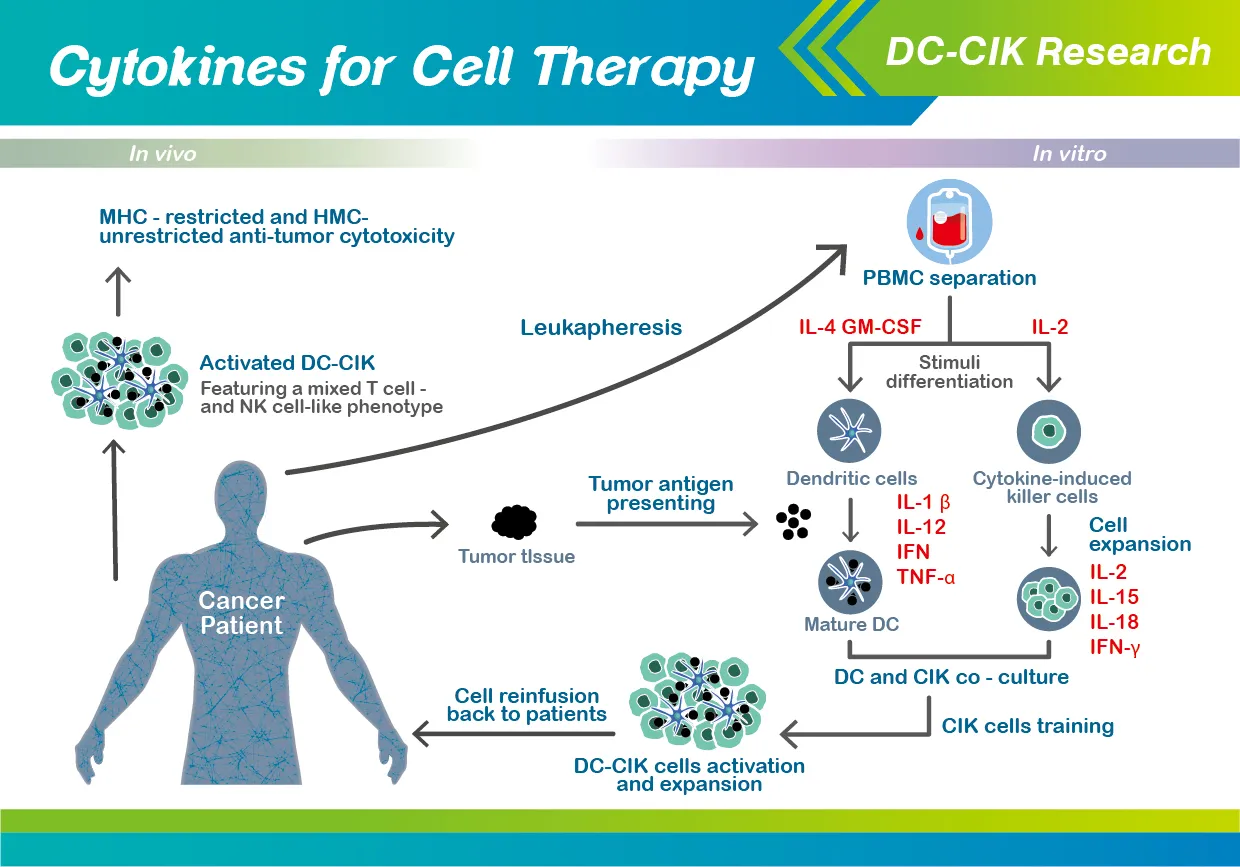 Cancer is one of the leading causes of death globally, and is predicted to account for an estimated 11.4 million of all deaths annually by 2025.Effective cancer therapy was and still is a major challenge for modern medical research. During the past few decades, numerous efforts have been devoted to the field of immunotherapy to improve the efficacy and safety of conventional therapies, such as radiation and chemotherapy.
A promising approach to accommodate the need for enhanced cancer treatment is the DC-CIK (dendritic cells and cytokine-induced killer cells) therapy, which is a mixture of in vitro generated cell populations that is first isolated from the peripheral blood of individual patients, and then eventually re-infused back into the same patients in the end.
In addition, Wang et al. extensively reviewed the most recent literatures and clinical trials concerning DC-CIK treatment against solid tumors, which has been present for an extended period of time in various tumor types (including glioblastoma, lung cancer, breast cancer, gastric cancer, pancreatic cancer, hepatocellular carcinoma, and renal cell carcinoma).
Carcinoma

Therapy

Main Result

P Value

Lung cancer

DC-CIK combined with CT/CT

MST

P=0.02

DC-CIK combined with CT/CT

1-year OS rate

P=0.028

DC-CIK combined with radiotherapy/radiotherapy

3-year OS

P<0.05
Breast cancer

DC-CIK/CT
1-year OS rate
P=0.0001
DC-CIK combined with CT/CT
ORR
P<0.05
DC-CIK combined with CT

Median OS: 15.2 month
n.s
Gastric cancer
CIK/CT
5-year OS
P=0.03
DC-CIK combined with CT/CT
OS
P<0.001
Pancreatic cancer
DC-CIK combined with CT/DC-CIK
OS
P<0.05
DC-CIK combined with CT/CT
OS
P<0.001
Hepatocellular carcinoma
DC-CIK followed by curative resection/non-treatment
RFS
P=0.01
DC-CIK combined with the conventional clinical treatment/ conventional clinical treatment

3-year OS

5-year OS

P<0.0001

P<0.0001

Glioblastoma

CIK cell therapy combined with standard TMZ

Chemoradiotherapy/TMZ

Chemoradiotherapy

Median OS
P=0.04
Renal cell carcinoma
DC-CIK combined with CT/CT

1-year OS

3-year OS

P=0.0002

P<0.0001

DC-CIK/CT
3-year OS
P=0.0116
CT: chemotherapy; MST: median survival time; OS: overall survival time; ORR: objective response rate; RFS: recurrence free survival; Table modified from DC-CIK as a widely applicable cancer immunotherapy.
These recent literature and clinical trials reported that the group of cancer patients who had received the DC-CIK treatment combined with chemotherapy have a significantly longer overall survival rate than the group that had only received the treatment of chemotherapy alone. In another study, an encouraging finding reported that patients who bear pulmonary and mediastinal metastasis of nasopharyngeal carcinoma experienced positive clinical responses following their chemoradiotherapy combined with DC-CIK therapy.
During the follow-up time of 13 years, tumor recurrence or metastasis was not detected. In conclusion, these findings promisingly shed light on the development of cancer therapy, which may provide a higher probability for overcoming cancer mortality. Currently, there are 171 registered studies on adoptive cell therapy (ACT)-treated tumors, and 38 of which are DC-CIK-based regimens. Thus, further investigating various methods for optimal therapy will be a vital task of modern medical research in the time to come. The therapeutic value of DC-CIK therapy is well-anticipated.
References: