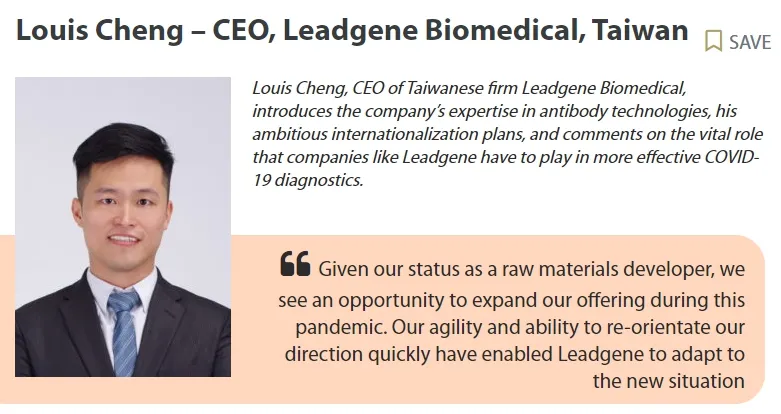 Can you introduce Leadgene Biomedical to our international readers?
Founded in 2013, Leadgene specialises in the technologies of antigen prediction and design, recombinant protein, and monoclonal antibody development. Furthermore, we are involved in the development of antibody drug candidates and companion diagnostics.
When the company was founded, around 70 to 80 percent of our employees were based in R&D. However, as other divisions of the company have expanded, we now have around 60 percent working in R&D.
Leadgene possesses numerous immune platforms, complete gene-to-protein technology, and antibody applications. We are injecting new energy into Taiwan's biomedical industry through our research and development. This is improving the local industry's environment and garnering international prestige.
Our ambition is to become an innovative and breakthrough international biomedical company with a leading immune platform. We strive to be the link between the upstream and downstream chain through our technology and industrial value, partnering with worldwide experts to form a versatile and competitive team.
In Taiwan, the stockpile of raw materials is insufficient. This is very important in the development of diagnostic tests in Taiwan to support the healthcare system. We have a lot of experience in the development and manufacture of antibodies and proteins and can act as a focal point to support the stockpile of raw materials.
What is the current main focal point of Leadgene's operations?
The development of antibodies is a highly mature technology. However, we have know-how within different sectors for the development of antibody technologies. Consequently, we can generate highly specific and stable antibodies for various applications. This is not only for diagnostics. In fact, we are an original equipment manufacturer (OEM) for third parties, from biotech companies to drug R&D centres, in addition to developing our own diagnostic kits.
Initially, helping to bolster the capabilities of other companies was the bulk of our work, but in recent years our diagnostic kit production capacity has accelerated and become the leading business segment. The initial delay stems from the slower development times for diagnostic kits. The greatest challenge is the uptake of technology because of the time required to develop the correct antigen.
What are your leading products?
It is common knowledge that antibodies can recognise peptides, but we have developed antibodies that can detect very small molecule compounds. Having spent years developing our own antibody testing kits, we are now undergoing the clinical verification and regulation application.
In vitro diagnostics (IVD) is currently our main product line and is the basis of our other products, which are variations of our core technology. In the past, the company was based around the development of IVD; completing this project was an important milestone for Leadgene. We also established a good manufacturing practice (GMP) and ISO13485 certified manufacturing plant in 2018 which was designed around the IVD product.
IVD is still awaiting approval for use and full commercialisation. It is currently undergoing clinical authorisation. We envisage receiving this authorisation from the TFDA (Taiwanese Food and Drug Administration) in quarter three of 2020.
The main target is the market for chronic kidney disease testing. Our initial target locations are Taiwan, Japan, and China. Asia remains a key area due to the high prevalence of chronic kidney disease.
What is your strategy to commercialise?
We are heavily involved in consultations and seminars with medical professionals. We are also holding presentations in the main conferences pertaining to chronic kidney disease, raising awareness amongst doctors of the advantages of our products. Therefore, our main strategy is to establish recognition for our products within the main clinics and diagnostic settings
We are also in discussions with larger medical suppliers within hospitals and laboratories who have expressed interest in our diagnostic kit. To illustrate our collaborations with an example, we have recently entered into an agreement with Singaporean i-DNA Biotechnology Pte Ltd. They will be our exclusive distributor in Singapore and Malaysia for Leadgene's products and have a growing business network in South-East Asia.
What distinguishes Leadgene's testing kits from other existing technologies in the field of chronic kidney disease?
Our products are able to detect specific targets, which in the clinical research have been identified as being important markers. Previously such markers have been outside the scope of diagnostic testing identified, but we are able to bring this to the market. This is an example of real innovation.
What has been the impact of COVID-19 on Leadgene?
Given our status as a raw materials developer, we see an opportunity to expand our offering during this pandemic. Our agility and ability to re-orientate our direction quickly have enabled Leadgene to adapt to the new situation.
Leadgene has devoted resources since the early stages of the COVID-19 pandemic to focus on SARS-CoV-2 viral infection screening platforms based on pseudoviruses. We have been involved in collaborations to develop a platform for screening SARS-CoV-2 viral infection both in vitro (cells based) and in vivo (animal-based).
We were able to develop diagnostic kits for COVID-19 very quickly. Currently, we have the Leadgene® SARS/SARS-CoV-2 Antigen Rapid Test which is currently undergoing clinical evaluation and is in the finalisation stage. This will be a rapid test to detect those infected with COVID-19.
In addition, we are developing two antibody tests: the Leadgene® SARS-CoV-2 Antibody Rapid Test and the Leadgene® COVID-19 Antibody ELISA Kit to detect those who have previously been infected. They are in the final stages of development with completion scheduled imminently.
Europe has been plagued by a number of unreliable antibody tests for COVID-19. What is your assessment of the situation?
My assessment is that the situation has been negatively influenced by the immediate time constraints, leading to a compromise on quality. Companies are under pressure to produce products very rapidly, offering limited scope for ensuring that tests are also of high accuracy. In the past companies would have been allowed years to design a diagnostic test. However, those timelines have been contracted to only a few months. It is important that a balance is found between these two highly important factors.
Our environment already contains a number of coronaviruses, such as: SARS, MERS, and the common cold. The key priority is to prevent cross reactivity of the antibody tests, which seem to have been occurring with the faulty kits. Our kit uses antigen detection, which relies on detectivity. The important aspect for Leadgene is to understand how to detect the virus in the early stages. To achieve this, we need to be able to raise the detectivity, and lower the chances of cross-reaction.
What is your ambition for the company in the coming years?
Diagnostics is a very fast-developing field of study, with many new biomarkers appearing as research develops. Our challenge will be to stay innovative and explore niche biomarkers that have previously been undetectable. They will be of increasing importance in the future and our mission is to develop and commercialise tests to meet the growing clinical demand.
We are now in the early stages of preparing the company for a future listing onto the stock market. Since 2018, we have been a member of the Go Incubation Board for Startup and Acceleration Firms (GISA) under the Taipei Exchange (TPEx), which has a specific platform for junior companies. As part of this platform, we receive advice on how to finance the next stage of our commercial development and how to establish the necessary regulations within our company to meet the requirements and necessary quality for a capital market.
What are your closing words for our readers?
We are the developer of new raw materials which can be applied to a multitude of areas within the biotech industry. Leadgene is devoted to delivering the highest quality products and premium services that meet the needs and demands of our customers.