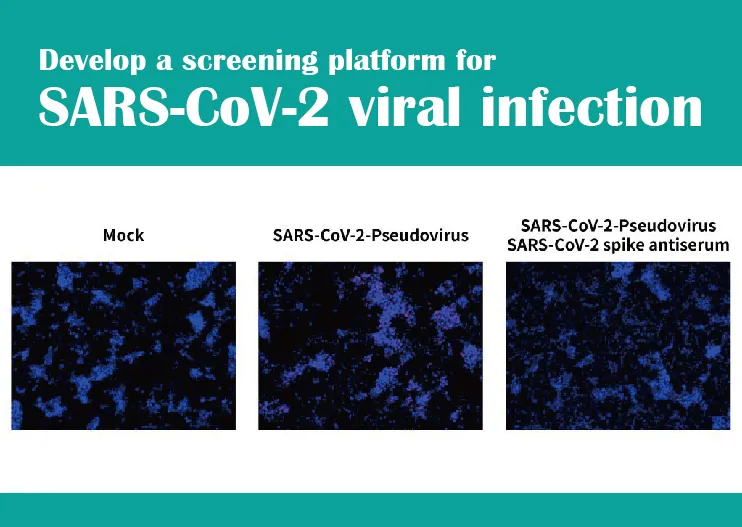 The technology, developed by Sidsco & Leadgene Biomedical, is expected to accelerate the research process for future drug and neutralising antibody developments.
In light of the challenging times brought about by COVID-19, accelerator bodies such as Taiwan's StarFab have been advancing its corporate innovation efforts in the biomedical facet.
Heeding this call are startups under StarFab's Taiwan AI x Robotics Accelerator (TAIRA), an accelerator programme that seeks to support startups through early engagement with potential enterprise clients, access to funding, and a strong network of mentors.
To this end, Sidsco and Leadgene Biomedical from the Southern Taiwan Science Park (STSP) recently reported good news on the disease prevention front. They have devoted their resources since the early stages of the COVID-19 pandemic to focus on SARS-CoV-2 viral infection screening platforms based on pseudoviruses. They have also been working together to develop a platform for screening SARS-CoV-2 viral infection in vitro (cells based) and in vivo (animal based).
The approach of these two biomedical companies is unique because while most teams focus on diagnostics and testing, Sidsco and Leadgene Biomedical leverage existing development technologies and experiences.
The platform can reportedly help medical personnel evaluate the antiviral effect of the neutralising antibodies, small molecules and natural extracts as well as confirm the effectiveness of decontamination products.
Testing has already been completed for the platform and it was found that SARS-CoV-2 pseudovirus only can infect the ACE2 highly expression cells. ACE2 is an important protein in SARS-CoV-2 infection and it is the key as to why the virus is able to combine with the ACE2 receptors in the human body and how the virus enters the human body to cause a severe pneumonia with novel pathogens.
As pseudoviruses cannot be replicated in the cell, the experiment can be conducted safely in labs.
This technology is expected to accelerate the research process for future drug and neutralising antibody developments. Both Sidsco and Leadgene Biomedical stated that they looked forward to high-quality service that would allow R&D personnel to take advantage of the screening platform and carry on their work. The two companies also believe this is the biggest contribution that the biomedical industry can make during this difficult time when COVID-19 is ravaging globally.
Pressing on with corporate innovation under the new normal
StarFab COO Jack Hsu stated that TAIRA's priority was to leverage the domain of Southern Taiwan Science Park to encourage innovation. Through the open innovation platform, the company determines to integrate the advantages of hard and soft powers of southern Taiwan.
In the fight against COVID-19, TAIRA's startups have delivered impressive performances, from individual location tracking services for quarantine, innovative vending machines, to collaboration with LCY Chemical Corp to put forward delivery machines of disinfectants, and much more.
The startup teams of Southern Taiwan Science Park and TAIRA continue to prove their strength and potential. The collaboration between Sidsco and Leadgene Biomedical is further proof of the close relationships that companies are able to build in the biomedical cluster at Southern Taiwan Science Park.
Speaking for Southern Taiwan Science Park Bureau, its deputy director Cheng Hsiu-Jung credited the park's success to StarFab in terms of delivering new services as the COVID-19 pandemic progressed. The StarFab Accelerator continued to introduce outstanding startup teams to major corporations in the Park for collaborations over the course of their partnership. The partnerships and continuous efforts showcase Taiwan's high standards of public health and biotechnology, as disease prevention continues to become more pressing around the world.
This will allow Taiwan's biomedical startups to shine on the global stage and stand at the international frontlines of disease prevention to help win the war against COVID-19.
About Sidsco and Leadgene Biomedical
Sidsco was founded in 2018 and was selected in 2019 for TAIRA (Taiwan AI Robotics Accelerator). Through TAIRA, Sidsco successfully established themselves in the Southern Taiwan Science Park, becoming a part of the park's scientific community. Sidsco built a 98m2 testing site and animal facility in the Kaohsiung Park in accordance with national standards. Their primary business is offering preclinical trials, e.g., molecular cell biology, animal models for diseases, pathology analysis, etc.
Founded in 2013, Leadgene Biomedical is a professional provider of protein and antibody platforms and has already established a GMP/ISO13485 certified factory in Yongkang, Tainan. Their technologies can be applied to initial development stages of in vitro diagnostic reagents and drugs. In recent years, Leadgene Biomedical has supported many of its partners to introduce many clinical and preclinical in vitro diagnostic reagents and drugs to the market.
▼CLICK HERE